Digital Strategy: The Fast Rise of L'Oréal Canada
How to apply the right Digital Strategy in your company
This month, the 48th edition of MTL+Ecommerce was held at L'Oréal Canada office in Montreal. For this occasion, we learn a bit more about how the world's largest cosmetics company uses data and personalization in its digital strategy to drive online growth.
What is the secret of L'Oréal Canada's fast rise? How does a company that works for the first time in Canada arrive in less than 7 years to sell billions of its products (it reached 1 billion dollars this year!)?
In order to answer to all of those questions, L'Oréal brought up different people from its team dedicated to the digital marketing of the company:
Digital Strategy should be customer centric
The world is changing, and with the digital revolution, everything is going faster. Companies that have badly started their digital shift find themselves lagging behind and end up out of the competition.
A global corporation like L'Oréal has its own structure and its own "ecosystem", and it might be difficult to try to transform it. So how to define the right digital strategy to stay relevant in this new era with a structure as heavy and already well established as L'Oréal?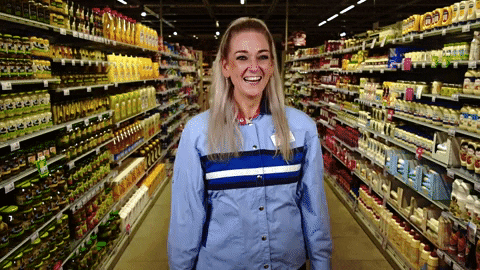 To deploy your Digital Strategy, make sure your company is Agile enough.
Here what L'Oréal CEO said about the company vision: "drive a big company like a startup".
Therefore, efforts to make the business even more competitive need to focus on the human being more than on the structure itself.
Whether it is in the way of managing human resources to make the business run smoothly or in the way it deals with consumers, L'Oréal is all about Human.
Like all other companies, the consumer is at the center of L'Oréal's interest. Indeed, the consumer is no longer a passive buyer, he becomes active and participates in the evolution of the brand.
A matter of Customer identification
It is expected that by 2021, ecommerce will be the first growth opportunity for every business. Why? Because more and more people prefer to purchase online.
The company devotes 20% of its business strategy to develop its ecommerce platform. The rest is 100% brand love. Feelings, behaviors, habits: people who look for L'Oréal products are those who love the brand. In return, L'Oréal adapts itself and of course its digital strategy to the needs and demands of its consumers.
In 2012 L'Oréal Canada started to deploy its digital strategy. All the digital platforms used by L'Oréal were media of expression for their online consumers: social media, website, email marketing, digital content, etc. The company had to be familiar with its online consumers in order to better respond to their needs and to improve its efficiency. To get there, L'Oréal had to obtain customer engagement: What interests them? What makes them react? What are their consumption habits? Etc.
If your audience is mainly millennials, you should read this article to see how Canadian Startup Hopper and Mylo adapt their digital strategies to this specific audience.
Digital has changed the Consumer Journey
Once L'Oréal has identified its clientele and its habits and behaviors, the company has started doing data science. L'Oréal is studying how its prospects are evolving throughout the customer journey. It allowed the company to both upgrade its services and to develop innovative programs designed for the customer.
The ultimate goal is to reach and connect with customers in both personalized and individual way. But it is not a linear path anymore. Passive consumers of yesterday have become the main players in today's marketing strategies.
In order to build customers journey that leads to purchases, L'Oréal is seeking to build a 1to1 connection with customers and to know what each individual needs.
Through this adaptive approach, the brand has progressively stopped talking about "digital marketing" but more about "marketing in the digital area". In other words, how can they play marketing in this vast digital playground?
For example, the company has recently launched a new mobile app (Modiface app) that allow users to style their hair and makeup through various filters. It is a great example of how L'Oréal is driving beauty of tomorrow.
Technically, How does L'Oréal implements its digital strategy?
Facebook Business, Youtube data, Analytics data, etc., all those tools allow the company to both draw a precise profile of the consumers and to learn their preferences and habits.
How does L'Oréal make sure that it reaches a person at the right time?
First, L'Oréal creates the right platform. For example, it can be a customized landing page that provides the customer interests and needs.   
Then it is important to create more opportunities to engage with the customer. For example, the company makes sure that they give the same customer the same experience on social media, on the website, on a mobile device and even in a physical shop; because what attracted the customer on the landing page is also what will get him/her engaged somewhere else.
L'Oréal wants to make sure that a personalized experience could be found on all its platforms in order to allow the customer to be familiar with the brand and its environment (website, app, email, etc.).
How L'Oréal reacts to all the information collected?
With its digital strategy, L'Oréal brings customers into a funnel and once they have a touch with one of its platform (app, social media, website, etc.), the company get information about the customer (under the customer authorization). The idea is to practice hyper-relevance on each step of the customer journey.
Thanks to their online platform, L'Oréal can map the customer purchases and have hyper see through. For example, the company knows that it takes 10 touch points before a prospect decides to purchase a product.
In conclusion, L'Oréal success is all about customer-centric approach. The brand concentrate on how it can improve its data in a way customers still win in all the process.
The company shifts from a short-term CPA (Cost Per Action) to a long-term CLV (Customer + Lifetime + Value). The segmentation of its audience allows the brand to give a data-driven communication in order to deploy a very accurate and personalized customer journey for each person.
You may also enjoy these articles
Do you want to grow your Business ?
Register today to receive exclusive tips and content not found on the blog & Get the best insights & Strategies from reknown digital Marketing experts & successful entrepreneurs delivered to your inbox.